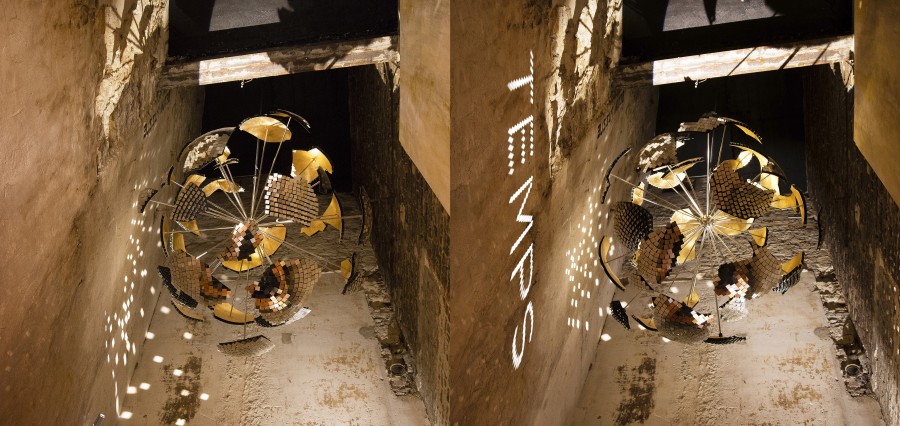 Les Bains, a legendary nightclub and international party scene hot spot in the 1980s and 90s is currently enjoying a soft launch after its redevelopment into a hotel, restaurant and club.
ART+COM Studios has created a site-specific installation for an extraordinary space in the renovated Les Bains. The sculpture, which brings to mind an exploded disco ball, covers the surrounding walls in scattered points of reflected light from which the words "RE TROUVE LE TEMPS PERDU" are composed over and over again. These words can be understood as "The lost times are found" (LE TEMPS PERDU RE TROUVE) or "Find the lost times" (RE TROUVE LE TEMPS PERDU) depending on where the viewer starts reading.
The words are a reference to the legendary past of the space as Les Bains nightclub. The title of the installation, À la recherche, ties into Marcel Proust's magnum opus "À la recherche du temps perdu" (In Search of Lost Time), in which involuntary memories triggered by everyday activities, objects and sensations is the recurring motif.
À la recherche was created for a room that served as a water tank for the spa in the 19th and early 20th century. At approximately twenty square metres, the floor area is not large, but the ceiling is 15 metres high. From a height of about two metres the walls have been left unrenovated – there, the sculpture rotates slowly above the heads of visitors, throwing reflections onto the rough walls. The space is part of the restaurant in Les Bains.
The sculpture is illuminated by several spotlights that bring a warm glow to its gilded interior and cast pinpricks of light onto the walls in swarms.
Manual labour and computational design went hand in hand for the production of À la recherche. Following brainstorming and initial sketches, the orientation and distribution of the mirror facets were computationally designed. The sculpture is made up of a sphere in 33 fragments, to which a total of 2800 small, square mirrors are attached. The mirror facets sit separately on individual holders that were made with a 3D printer and then glued on by hand. The mirror elements that reflect the words were also 3D printed, attached to flexible joints and individually aligned.
The slow movement of the reflections in the space and the recurring motif make À la recherche a contemplative work of art that pays homage to the wild years of Les Bains.
Pictures © Christophe Bielsa