Since the end of last year, we have been working on QURATOR, a research project focused on supporting knowledge workers and editors curating digital content. The goal is to facilitate more productive use of the growing masses of digitized, networked information and to use automation to help curate it more efficiently and cost-effectively. Funded by the German Federal Ministry of Education and Research (BMBF), the project is being developed by a collective of ten organisations.
Intelligent methods and processes based on generic language and information technology, machine learning (ML) and artificial intelligence (AI) form the basic foundation of the platform being developed. Because the platform will be user-oriented and support a wide range of information sources, data formats, and applications, the development will draw heavily on practical experiences.
It will offer industry-specific solutions including automated curating of digital archives, show control software for museums and showrooms, an intelligent authoring system for interactive storytelling, tools for media editors, curating technologies for biomedical information, and solutions for the corporate communications field such as automated online monitoring and intelligent process modelling.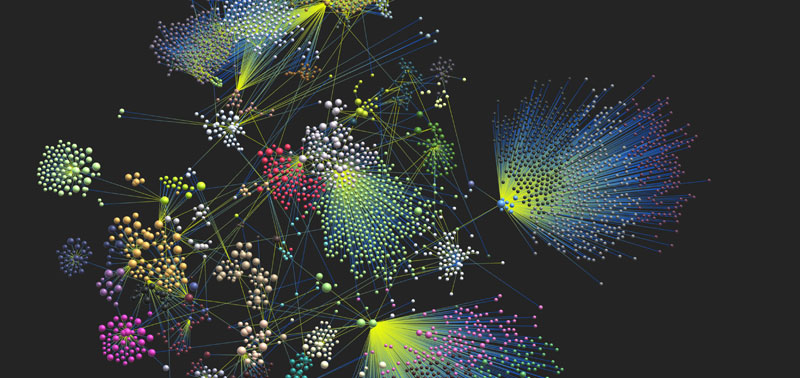 Our particular subproject focuses on the rapid development of complex information spaces through AI-based interactive software; we have begun to develop models to visualize large amounts of interconnected data. The data is sourced from the Wikidata collection of our project partners, the Wikimedia Foundation. The collection links terms through a variety of statements in a way similar to Wikipedia, but it is designed so that machines can use the information. To implement our software we use Unity, which is a game engine that is ideally suited to real-time visualization.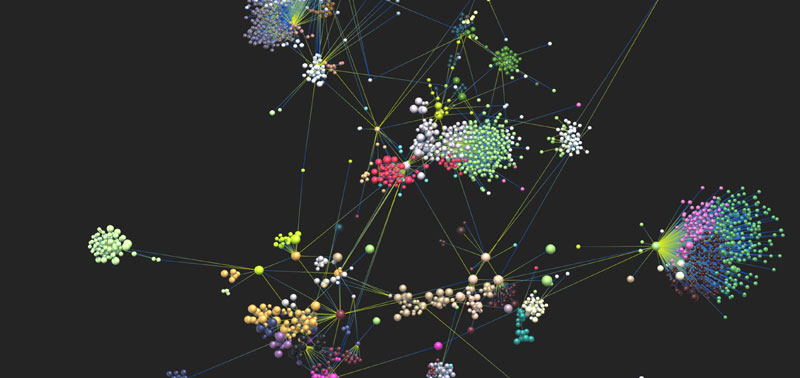 We are currently investigating potential arrangements of objects and their relationships in two-dimensional and three-dimensional space. We are particularly interested in the possibility of displaying data selected and grouped according to its relevance to particular questions. At a later stage, this basis will be used to develop navigable graphs that support knowledge workers and interactive museum exhibits.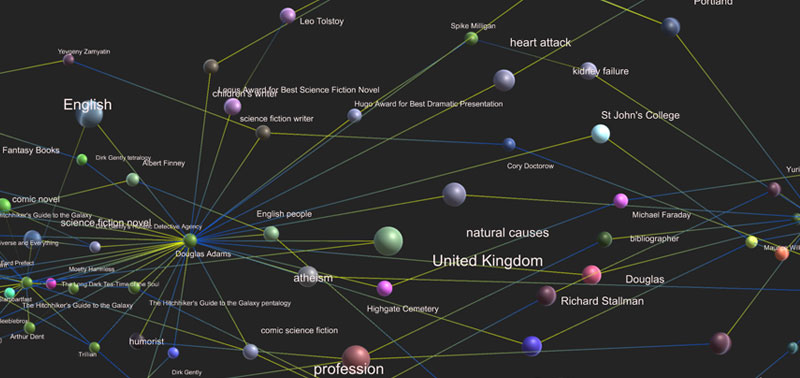 QURATOR is supported by the Federal Ministry for Education and Research (BMBF) as part of the »Unternehmen Region« program. The ten-member collective is made up of Berlin-based research centres DFKI and Fraunhofer FOKUS, companies 3pc, Ada Health, ART+COM AG, Condat, Semtation, and Ubermetrics, as well as Wikimedia Deutschland and the Prussian Cultural Heritage Foundation (Staatsbibliothek zu Berlin).