Sónar and the Sorigué Foundation will premiere the monumental audiovisual installation RGB|CMY Kinetic created by us for SonarPLANTA.
RGB|CMY Kinetic is both a sculpture suspended in the air and a choreography of light, with its roots in two important traditions of the twentieth century: kinetic art and light art. The piece consists of five reflective disks that will rise above the installation space. These disks will reflect light from three bulbs, casting three primary colours on a floor-mounted display. The precise and harmonious movement of the disks — via a system of motors and cables — will be used to decompose the light emitted by the bulbs in multiple shades and distinct tones that will fill the screen.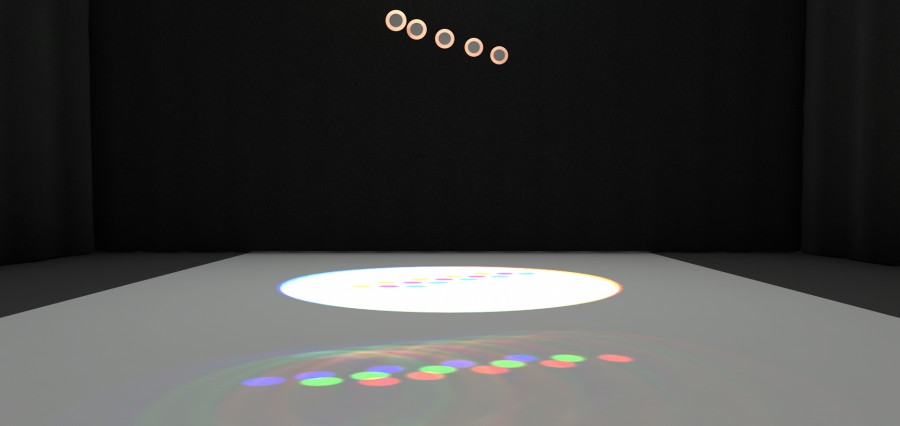 The third choreography element will be sound. For the sound of RGB|CMY Kinetic we have continued our successful collaboration with the exceptional Icelandic composer Ólafur Arnalds. His composition will be activated by the position of the piece's disks in each moment.
The piece has been specifically developed for SonarPLANTA and is inspired by the PLANTA project, a multidisciplinary creation space that brings together art, architecture, science, innovation, talent and enterprise, located in the Sorigué industrial environment.
The monumental SonarPLANTA space will support a meditative and transcendental experience of RGB|CMY Kinetic, in which technology is used to explore nature's poetic dimensions and fundamental principles. The piece will immerse viewers in colour, movement and sound.
Created last year, SonarPLANTA is the joint initiative from Sónar and the Sorigué Foundation, which will run for the next three festivals, and aims to promote and celebrate research and experimentation in creative languages, based around technology and New Media Art. Following last year's first SonarPLANTA, each year will see three internationally renowned artists submit a new creation proposal that experiments with creative languages and technology. The selected artist will be rewarded with the production of their piece, which will be premiered in the new SonarPLANTA space.
RGB|CMY Kinetic follows on the first SonarPLANTA piece hosted by Sónar 2014: a monumental immersive audiovisual installation unidisplay by Carsten Nicolai.
RGB|CMY Kinetic — currently being produced in Berlin — will have its worldwide premiere at SónarBarcelona on 18, 19 and 20 June, 2015.
The installation will be manufactured and installed by MKT, Olching.