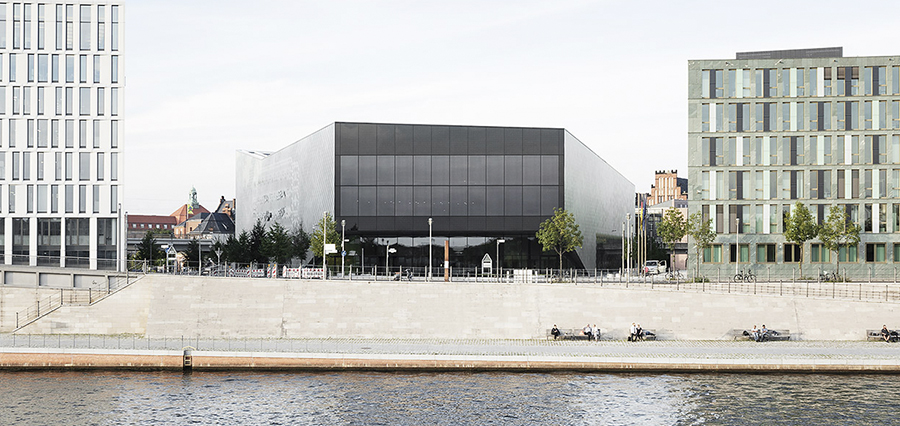 Berlin's Futurium opens tonight, and with it a unique and expansive permanent exhibition that explores our potential futures from different areas of life––from self-sufficient cities, to the future of work and ideas for more sustainable consumption. Visitors can experience visions of the future on over 3,000 m2 in three large "thinking spaces"––humans, nature and technology.
ART+COM Studios worked closely with Futurium and Schiel Projekt on the exhibition design. ART+COM Studios, specialists in spatial, media-based communication of complex information, won the design competition and were thus involved right from the very earliest planning stages. Creating Futurium's exhibition was an ambitious project because the show should showcase potential futures and be innovative in terms of design.
Three large spaces for thought
This unusual and comprehensive exhibition offers free entry to visitors, and inspires multiple return visits. Large-scale spatial designs concepts create three "thinking spaces," each dramatically different in mode and atmosphere.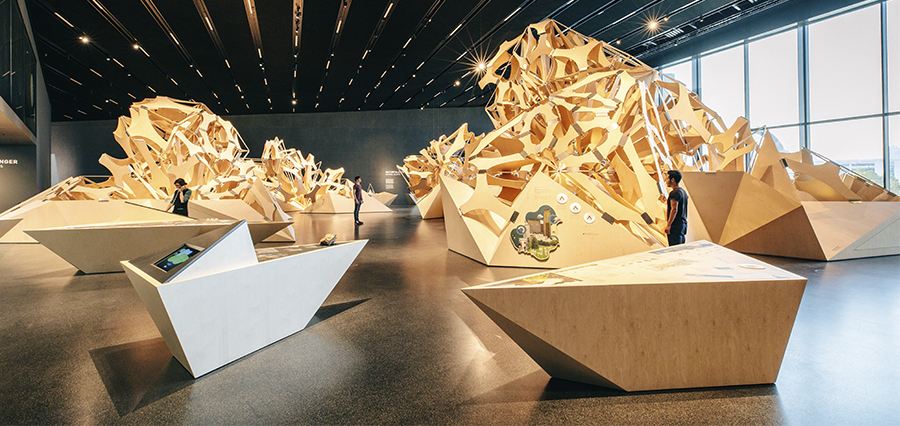 The "Thinking Space: Nature" is dominated by a multi-part, generative, architectural sculpture made of wood. It is surrounded by numerous presentations of different approaches to how people can live in closer harmony with nature and learn from the natural world.
The exhibition designers and the Futurium team consciously decided against "over technologizing" the exhibition. Instead, Futurium's mix of analogue and digital media make complex information and competing ideas of the future easily accessible. Every visitor, regardless of age, has the opportunity to explore the exhibition according to their interests.
The "Thinking Space: Humans" deals with the question of how we can positively influence our future through behavioural changes. With its small "houses," many seats, and participative stations with media such as pens, paper, and chalk, the room offers space and opportunity for collaborative, analogue experimentation.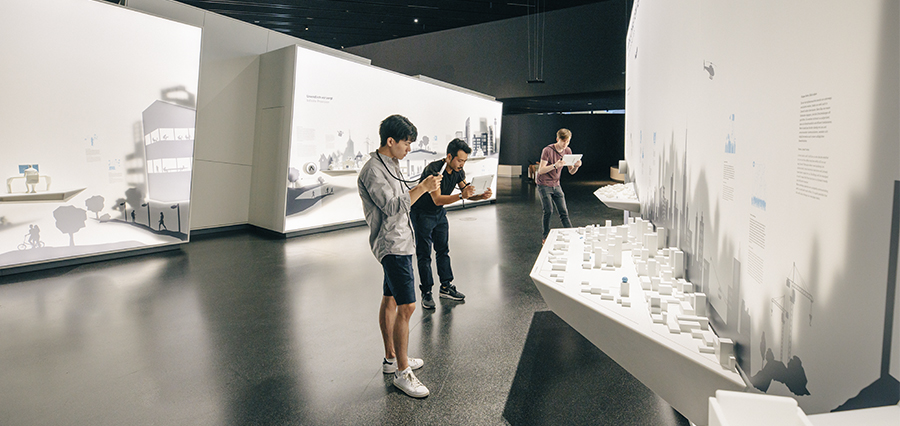 The "Thinking Space: Technology" investigates the future-shaping potential offered by new technologies. Its "objective" aesthetic of white, backlit walls and multiple media stations clearly sets it apart from the other two exhibition areas. Appropriately, it features cutting-edge digital media such as augmented reality applications and intuitive, gesture-controlled projections.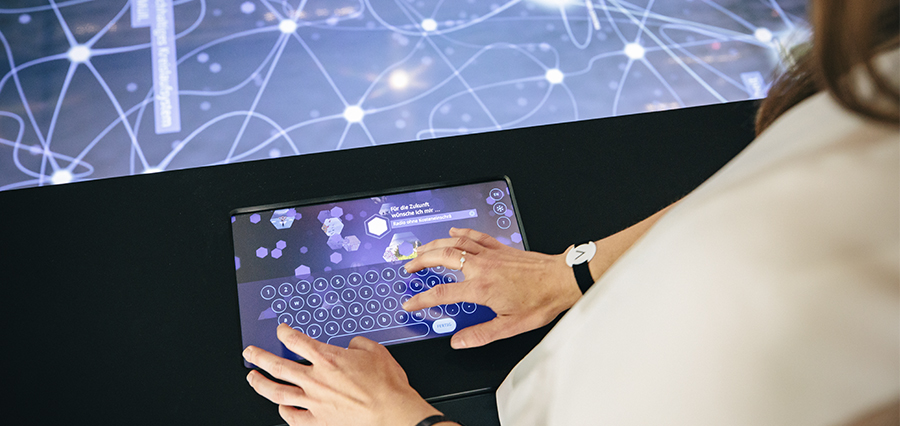 Hopes for the future gathered in a collective wishing well
In the foyer, before visitors enter the exhibition space on the upper floor, they are invited to formulate their personal hopes for the future at a digital "wishing well." Words typed on a keyboard appear on the virtual ground of the well, along with other words that are contextually related. An AI algorithm analyses connections between the words and relationships between the wishes by determining the probability of a given word in text collections. Each individual wish is thus integrated into a collective whole and linked to related wishes.
The media station employs the results of two current research projects within the machine learning field, "Digital Curation Technologies" and "Qurator," which ART+COM Studios runs with partners. The "wishing well" is a web browser-based app also made use of by Futurium on mobile devices during events, such as workshops.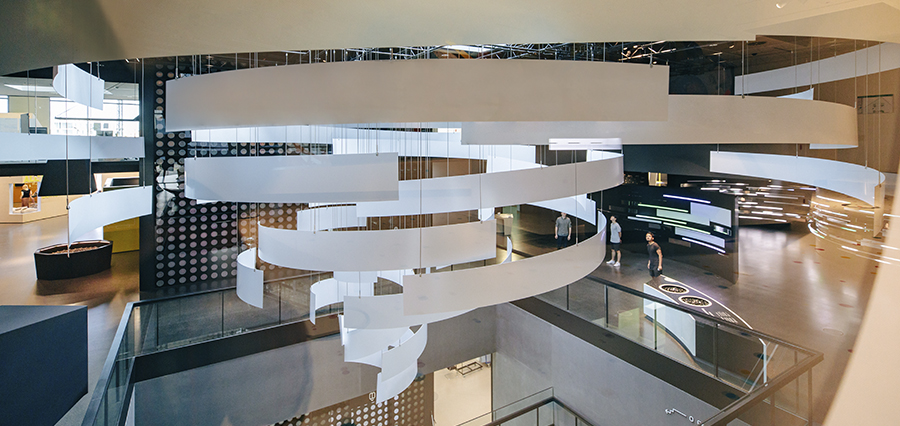 A tornado tunes into multiple futures
Above the staircase leading up to the exhibition, an expansive installation reminiscent of a tornado whirls upwards. This display represents the massive acceleration and exponential development with which global processes such as species extinctions, CO² emission increases, and population growth have taken place over the last two hundred years. It features the major problems we will have to confront in the short and medium-term.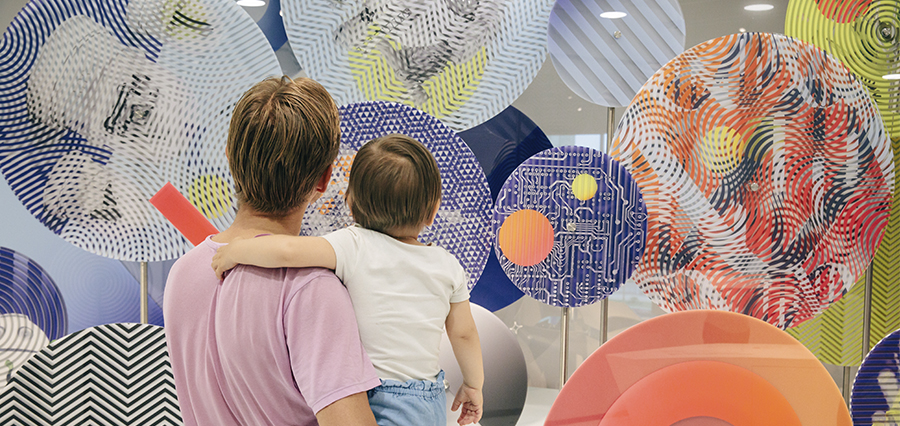 A wristband for gathering information and voting on plans for the future
At the beginning of each exhibition tour, visitors can opt to wear a wristband with an integrated chip. The band can be used at media stations to evaluate visions of the future and collect information on individual topics, which helps crystalize personal attitudes towards the future and its potential developments over the course of a visit. Before leaving the exhibition, the wristband is thrown into a huge "future machine" in exchange for a card printed with individualized motives based on evaluations made during the show.
The card features a personal code that can be used after visiting the exhibition to access and retrieve in-depth information on topics of interest via a web interface.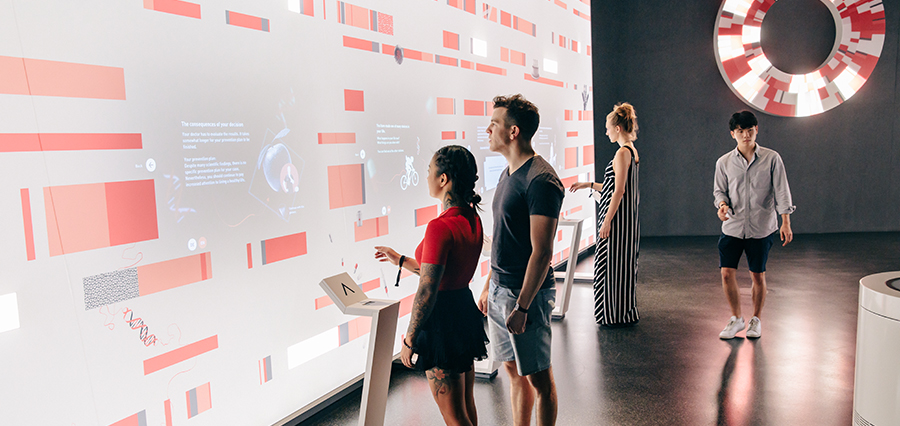 Fun interaction
Interaction design has long been a particular focus for ART+COM Studios. Offering new media possibilities beyond the standardized touchscreen is a big motivation, and so Futurium features a wide array of interaction systems. In the "Thinking Space: Humans," for example, is a game called "Solidarity Agriculture" where visitors interact with the content by touching a projection surface on the wall. Collaboration is the main focus and visitors learn about the economic model as they play. In another area, in the "Thinking Space: Technology," content can be manipulated "in the air" with hand gestures.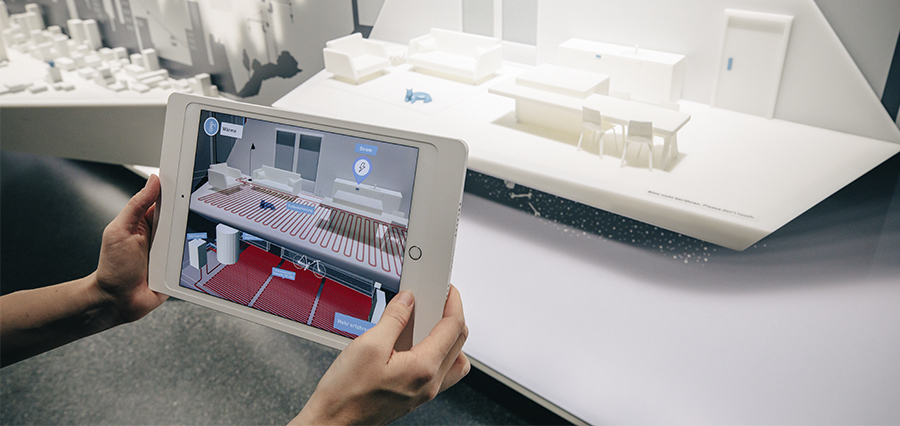 Exploring invisible layers of data with augmented reality
The extent to which cities, work, and consumption have already been impacted by digitalisation and Big Data can be felt in everyday life. The exhibition offers a glimpse into the future of these three spheres with an augmented reality app. Invisible concepts can be accessed by visitors using tablet computers. When a device is held in front of a three-dimensional model, miniature worlds and animated scenes are revealed. The invisible changes Big Data has wrought on the visible world can thus be experienced as a data layer.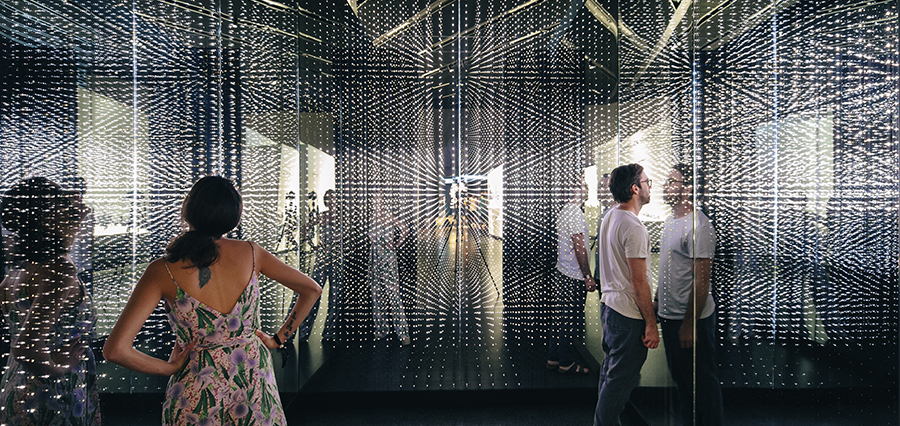 Experience the infinite data space
As well the many detail-rich and informative exhibition displays, a number of installations convey visions of the future visually and emotionally. For example, the invisible, intangible, and constantly expanding data space that we move through and contribute to can be experienced as an immersive light-and-sound installation. The idea of global data space is translated into an atmospheric choreography of light that is infinitely multiplied through reflections.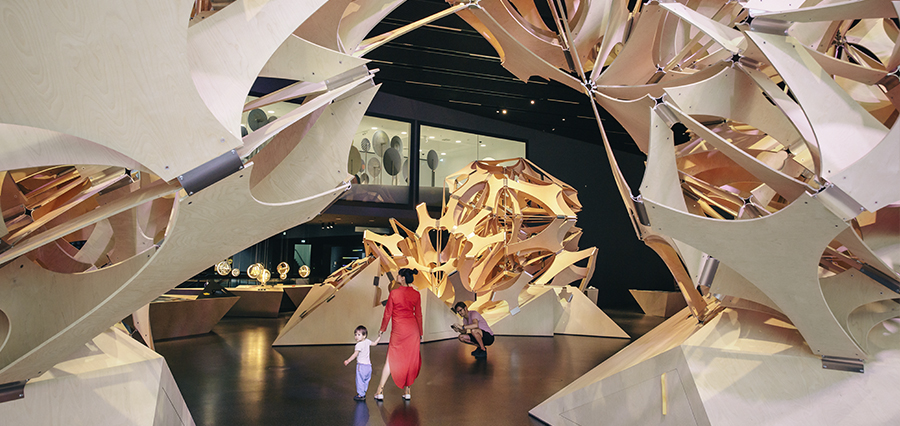 As though it grew here
In the "Thinking Space: Nature," a huge sculpture seems to grow organically out of the floor, twisting and striving in various directions, arcing up to a height of eight metres. The designers used a mathematical, modular system in which even a small number of different modules can be used to create organic-looking structures. The complex form of the "Neo-Nature" sculpture was developed using 16 different modules, 1500 wooden plates, and 4500 specially designed angle connectors. Near by, visitors experience the differences between technical and biological cycles at close quarters with a marble run. Following the balls on their respective paths reveals the cycles of technological and biological products.
Exhibition design: ART+COM Studios and Schiel Projektgesellschaft mbH
Project management: Schiel Projektgesellschaft mbH
Media design: ART+COM Studios
Exhibition graphics: Polygraph Design
Lighting: Studio Dinnebier
General contractor: ART+COM AG
Client: Futurium gGmbH
Top image: Schnepp Renou