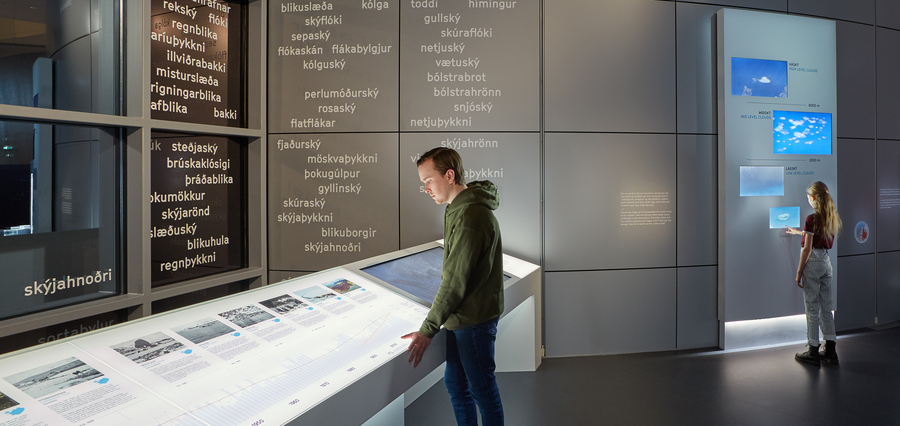 On De­cem­ber 1, a new ex­hi­bi­tion by the Ice­landic Mu­seum of Natural His­tory was opened by Ice­landic pres­i­dent Guðni Th. Jóhan­nes­son and prime min­is­ter Katrín Jakobsdóttir. "Water in Ice­landic Na­ture" aims to awaken in­ter­est and ad­mi­ra­tion for the na­ture of water and in­form­ visitors of its won­ders and im­por­tance for the fu­ture pros­per­ity of so­ci­ety. The per­ma­nent ex­hi­bi­tion is pre­sented at Per­lan, a for­mer hot water stor­age facility and iconic Reyk­javík land­mark.
ART+COM Stu­dios de­vel­oped five new-media-based ex­hibits for the compact exhibition space at Perlan. "Water in Ice­landic Na­ture" is the first ex­hi­bi­tion by the Museum of Natural History. The show was de­signed for au­di­ences of all ages with a special focus on school children – the show will be part of the of­fi­cial Ice­landic school cur­ricu­lum.
At the en­trance to the ex­hi­bi­tion, a dark, vir­tual spring bub­bles over the floor. Mod­elled after a real fresh­wa­ter spring in Ice­land, its vir­tual rip­ples bounce from the curved walls that dis­play in­for­ma­tion about fresh­wa­ter springs.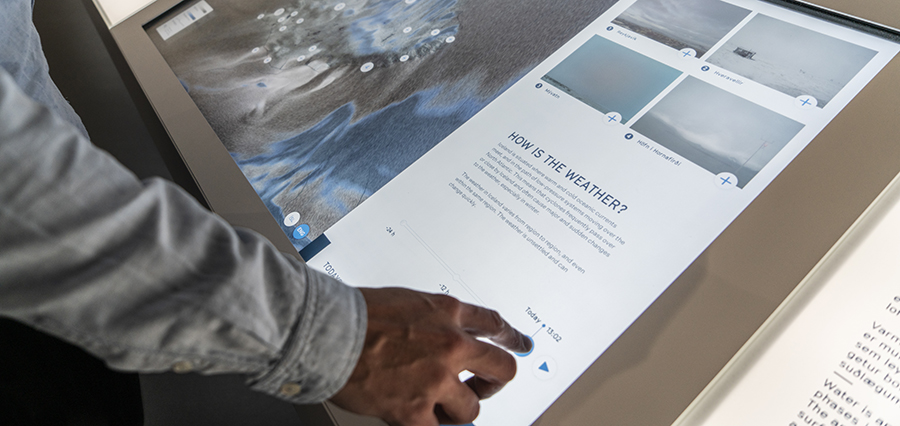 Based on live weather data from the Ice­landic Me­te­o­ro­log­i­cal Of­fice, an in­ter­ac­tive media sta­tion provides information about the cur­rent weather sit­u­a­tion on the is­land. Vis­i­tors can also learn about typ­i­cal wheather con­di­tions and get an overview of the weather of the last 100 years in a graphic dis­play.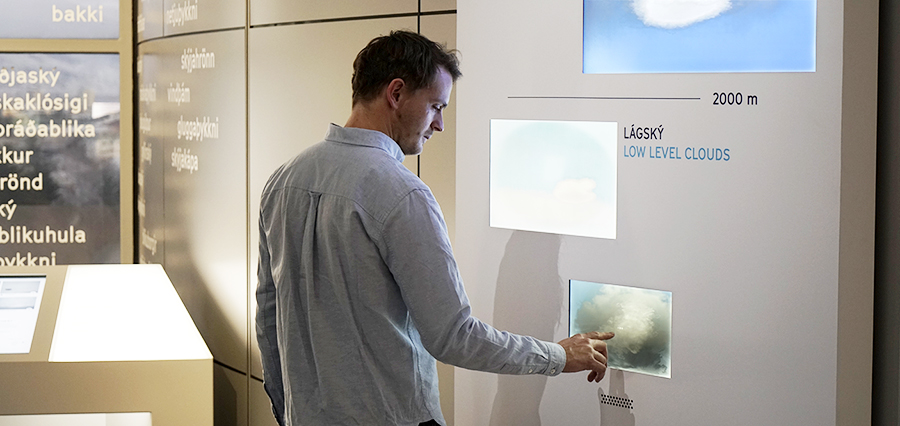 Another interactive media station invites kids and grown-ups alike to draw clouds and learn about cloud types and their connections to specific weather conditions.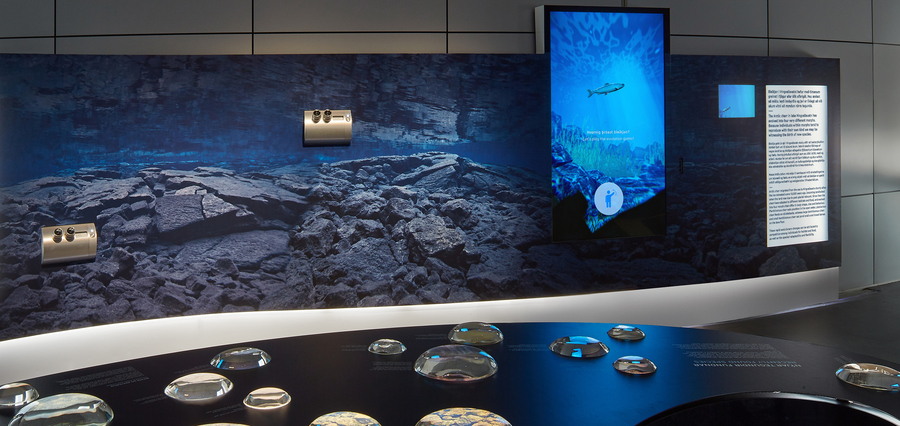 The third area of the ex­hi­bi­tion brings the evo­lu­tion of life in fresh­wa­ter into focus. A wall dis­play in­cludes an in­ter­ac­tive, mo­tion-based sta­tion at which visitors can ex­plore the 10,000 year-long evo­lu­tion of the Arc­tic charr fish. Nearby is a sta­tion featuring the unique ecosys­tem of the Thing­vallavatn, a rift val­ley lake of vol­canic ori­gin in south­west­ern Ice­land. Mi­cro­graphs and videos of mi­croor­gan­isms are dis­played under con­vex glass domes that resemble drops of water and cre­at­e an ana­logue 3D ef­fect. Par­tic­u­lar em­pha­sis is put on two re­cently dis­cov­ered en­demic species of ground­wa­ter am­phipods, Cry­mosty­gius thing­val­len­sis and Cran­gonyx is­landi­cus. Look­ing through gog­gles, vis­i­tors can view mes­meris­ing stereo im­ages of tiny creatures liv­ing in the ac­tive vol­canic zones of Ice­land.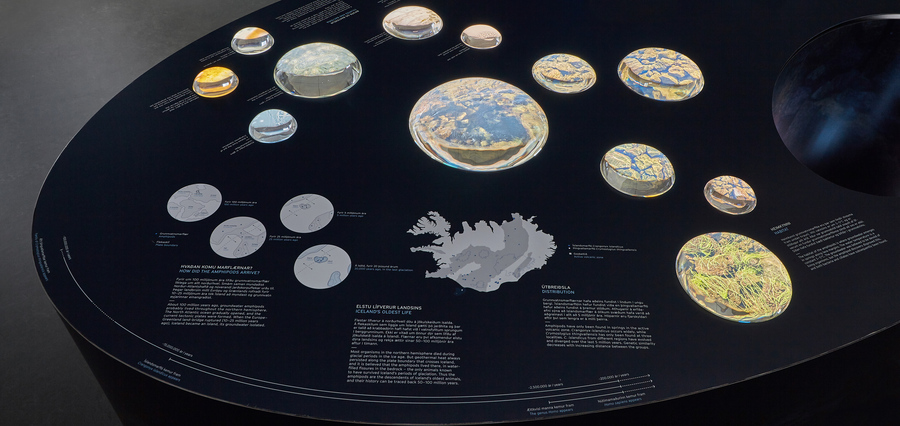 Location: Perlan, Reykjavík, Iceland
Exhibition space: 230 square metres
Commissioned by: Icelandic Museum of Natural History
Sound design (spring, games): Klangerfinder, Stuttgart, Germany
Stereophotomicrography: Wim van Egmond, Berkel en Rodenrijs, Netherlands